Now and then
With the benefit of old photos and BAT committee meeting minutes we can be reminded of the achievements and improvements now seen in Burncross since 2006.
The floral displays and boundary stones at Bracken Hill and Hallwood road are now landmarks to Burncross. Regular grass cutting at these two sites and on the Barnes Hall estate are done by our volunteers.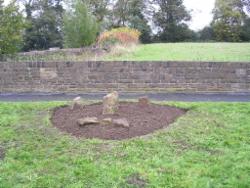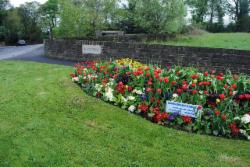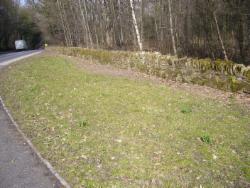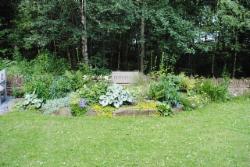 Flowerbox displays around the area have increased with the tubs (previously made from recycled scaffolding boards) replaced by smarter maintenance free alternatives.
In 2011 the Acorn recreation ground improvements were facilitated by BAT using local development monies and lottery funding.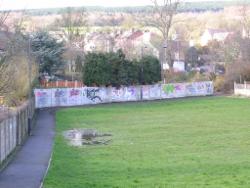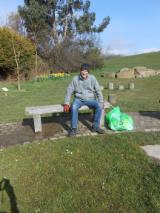 The Mckenzie Play area has also been refurbished with new goal posts being erected, muddy areas now protected by Astro-turf, repainted playground equipment, replaced litterbin and new seating installed.
In Foxfield Wood (since the demise of the "Friends group") new bird boxes and an information board have been installed.
Christmas in Burncross:- the sad decline of carol singing and local brass band are no longer but four large Christmas trees light up the area.
Yorkshire in Bloom competition:- After much effort and despite the axing of the SCC "In Bloom" department in 2013, BAT in 2014 won the Gold and Overall winner in the Large Village category, with a further Gold in 2016. In 2018 the Burncross Gateway Garden won Platinum. This competition awards marks for quality of floral displays, environmental work and community involvement.
Schools:- Young people in our local schools continue to join BAT activities, poster and poetry competitions, scarecrow building and more recent environmental work in the Burncross Gateway Garden making bug houses, seed sowing, planting, pebble painting and identification of flowers and bugs.
In 2016 BAT facilitated the Burncross Beer Festival bringing together the three local pubs for a weekend of fun and entertainment. Generous raffle prizes were donated by our supporters and money was raised for improvements inthe Mckenzie Recreation ground.
Grant awards from EPC, Ward Pots, ASDA and TESCO contributed to funding new flower boxes, seating and equipment.
Newsletters have been distributed to some 1,700 local homes in Burncross by our volunteers ( a reminder of our achievements despite recession)
In 2017, BAT with support from an RHS initiative secured a three year lease on the Bracken Hill disused highways depot to re-purpose it into a wildflower and wildlife area. This is now an area for the community to enjoy and is always open to visitors.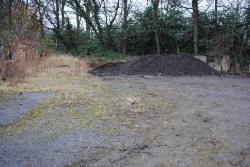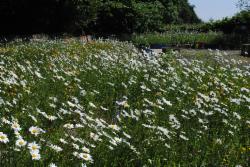 Sadly in 2018 our container was broken into and all equipment stolen.
2015-2019 BAT continues to have support once a year from Amey employees (Streets Ahead) on their "community days" to help our volunteers to empty and refill our flower boxes ready for autumn planting.
BAT has many social acitivities (always important in a community group) ranging from BBQs, games nights, quizzes and history evenings in the local pub to visits to RHS Harlow Carr, car rallies, afternoon teas and Christmas jumper parties.
Remember since 2006, every first Sunday in the month (unless it is Christmas day) BAT volunteers remove litter from the streets. That's an achievement in itself!
Come and join us!